Pakistani Biryani Rice Exporters
PK-386 Sella Biryani Rice is ideal for everyday cooking. It gives off a sweet, non-sticky texture upon cooking, allowing it to enhance the flavors of spices added to it. What's more appealing about Pk-386 Biryani Rice is that despite of being a non-basmati variety of rice, it gives off a similar aroma and taste of basmati rice but at a much economical rate. This has made PK-386 Sella Biryani Rice a very popular choice for our customers, suppliers and distributors.
Like all our quality rice products, PK-386 Sella Biryani Rice is double silky polished and color sortexed. The moisture content of this rice variety is 13.5%, allowing the grains to retain their freshness and quality for longer periods of time.
Our biggest markets for PK-386 Sella Biryani Rice lie in the Middle East and Africa as this variety uniquely matches the consumption choices of the people in these regions. The variety has an elongation ratio of about 1.50 and does not widen upon cooking.
---
AVAILABLE IN PRIVATE LABEL AS PER CUSTOMER'S REQUIREMENTS. LEARN MORE…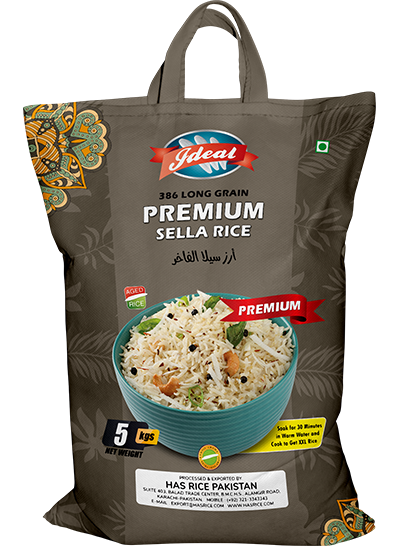 Pakistan 386 Biryani Sella Rice
---
| | GRADE | Premium, PK386 Parboiled |
| --- | --- | --- |
| Maximum Limits | Moisture Content (%) | 13.5 |
| | Damaged & Yellow Kernels (%) | 1.5 |
| | Broken Grains (%) | 2.0 |
| | Ungelatinised Kernels (%) | - |
| | Chalky Grains (%) | 3.0 |
| | Contrasting Variety (%) | 7.0 |
| | Foreign Grains (%) | 0.5 |
| | Foreign Matter (%) | 0.5 |
| | Paddy Grains | Max. 10 pcs per kilogram. |
| | Red Rice (%) | 2.0 |
| | Green Grains (%) | - |
| | Under Milled Grains (%) | 2.0 |
| Minimum Limits | Milling Degree | Very Well Milled |
| | Kett | - |
| | Average Grain Length of Head Rice (mm) | 6.8 |
Pakistan 386 Biryani Sella Rice
Non-Basmati Rice Prices - FOB Karachi
Validity Date: (27th September, 2021)
---
| PACKING MATERIAL | NET WEIGHT | PRICES FOB KARACHI |
| --- | --- | --- |
| Cardboard Box | 1 KG | $ 670/MT |
| Polypouch Bag | 2 KGS | $ 654/MT |
| | 5 KGS | $ 641/MT |
| Non-woven Bag | 5 KGS | $ 635/MT |
| | 10 KGS | $ 625/MT |
| | 20 KGS | $ 615/MT |
| | 25 KGS | $ 610/MT |
| | 40 KGS | $ 605/MT |
| Jute Bag | 5 KGS | $ 648/MT |
| | 10 KGS | $ 627/MT |
| | 20 KGS | $ 614/MT |
| | 25 KGS | $ 612/MT |
| | 40 KGS | $ 606/MT |
| Polypropylene Bag | 20 KGS | $ 566/MT |
| | 25 KGS | $ 563/MT |
| | 50 KGS | $ 560/MT |
Request for a Prompt Quotation
Quotation PK386 Sella Rice
---